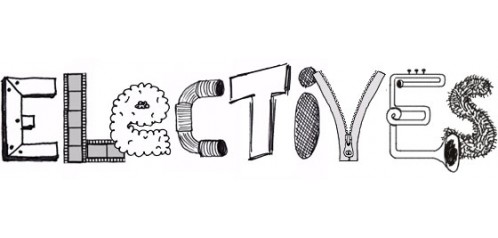 Elective Descriptions: 
Art:  Student of all abilities are encouraged to take this course.  Students are able to acieve credit for Art 10, 11, or 12.  Guest artists join in this class on a regular basis to add to the already dynamic learning environment that is created by the students, teachers, and EA's.  
Foods:  Students are able to earn credits in Foods 10, 11, or 12.  This hands-on class provides an opportunity for students to learn all aspects of preparing meals and baking.  Comparison shopping and preparing healthy meals on a budget are part of the experience.  
Social Studies 10:  Students will actively engage in learning Socials 10 by participating in various discussions and activities.  The class will explore global and regional conflicts, Canadian society, historical and contemporary injustices, and the development of political institutions.
Science for Citizens 10 or 11:  This class will include a hands-on approach to learning Science.  The class will look at the formation of the universe, genetics, chemical processes, and energy.  This is a challenging course with a very supportive learning environment.  Please see Andrew for more information about Science for Citizens 10/11.
Self Paced:  This program allows students to take course(s) towards graduation and work at them at their own pace with the guidance and support of the teacher.
Woodworking 10, 11, & 12:  This course will cover the basic principles of using a variety of hand and machine tool operations with the care of equipment and safety as a number one priority.  Through a variety of projects, students will learn about the design process as well as how to read and develop working drawings, measure, cost and layout material, and learn a variety of joinery skills.
Psychology 11/12:  Psychology is a course designed to provide students with an understanding of human behaviour and basic concepts in modern psychology.  Topics can include the five major psychological domains:  methods, neuroscience, cognitive, social, and developmental in order to achieve a general overview of this subject area.
Science & Technology:  This course provides opportunities to investigate, analyze, understand, and experience the relationships among science, technology, and human society.  Science & Technology 11 includes the contributions of technology to scientific knowledge and vice versa; the notion that science and technology are expressions of history, culture, and a range of personal factors; the processes of science and technology, such as experimentation, innovation, and invention; and the development of a conscious awareness of the ethics and choices involved in the uses of science and technology.