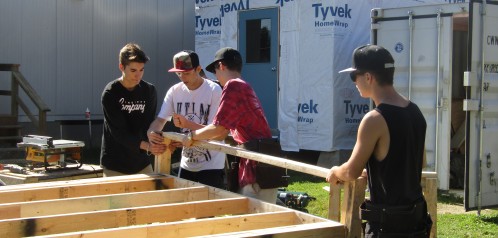 Trades is an experience-based learning program in which cross-curricular competencies are woven throughout the fabric of learning about the trades.
Trades Discovery at Kw'íyeqel Secondary is enhanced by strong partnerships with the University of the Fraser Valley, School District 333 Maintenance Department, School District #33 Work Experience Department, and Learning 2 Lead.
Students can receive credit for the following courses in Trades Discovery:
Apprenticeship and Workplace Mathematics 10 7 11
English 10 and Communications 11 & 12
Skills Exploration 10, 11, & 12
Woodworking 10
Carpentry and Joinery 11 & 12
Foods and Nutrition 10, 11, & 12
Personal Project 10, 11, & 12
Independent Directed Studies
Planning 10
Guest instructors and students from UFV will join students at KSS for various lessons and activities.
Students will shadow UFV students for a few days at the University in order to gain a better understanding about various Trades Programs at UFV.
Students who attend on a regular basis and are demonstrating a sold work ethic will be provided opportunities for Work Experience placements at local industrial worksites.
Students will get the following certificates in Trades:
Foodsafe
WHIMIS
Occupational First Aid Level 1
Forklift Operation
Phone: 604 792-9277 Loc 245
Teacher(s):  sean_cordeiro@sd33.bc.ca, evan_jones@sd33.bc.ca
Educational Assistant:  James_Braun@sd33.bc.ca